April 27, 2020

Virtual Sales Opened! A Message From Our Sales Director



April 25,2020

Service Sanitizing Process 
April 22, 2020
How to Buy a Car Online with WG BMW
10 simple steps & how it works
1)              Choose the vehicle you want to buy at www.westgermanbmw.com and then click on the
SHOP FROM HOME button.
2)              Choose Payment, select from three payment options lease, finance or cash) and adjust down payment, select incentives you qualify for, choose length of term and credit score values to fit your budget.
3)              Add Trade In (Get an instant trade value)
4)              Choose your Vehicle Protection Upgrades (Choose plans that work best for your driving needs)
5)              Apply for Credit and Submit Billing Info to schedule your delivery.


6)              Your deal will be confirmed by WG and a zoom call to confirm deal will be scheduled.
7)              Documents will be mailed to customer with a paid return Fed Ex envelope to be sent back to dealer.
8)              Pick up of vehicle will be scheduled once documents are returned signed and paid for in full.
9)              Take delivery of your new car at West German BMW no contact service.
10)           Our Genius team will do a facetime call with you to go over all of the benefits and features of your new car.
 That's really EZ with WG…
Our team is available at your request to assist you through any of these steps, Just ask

April 20, 2020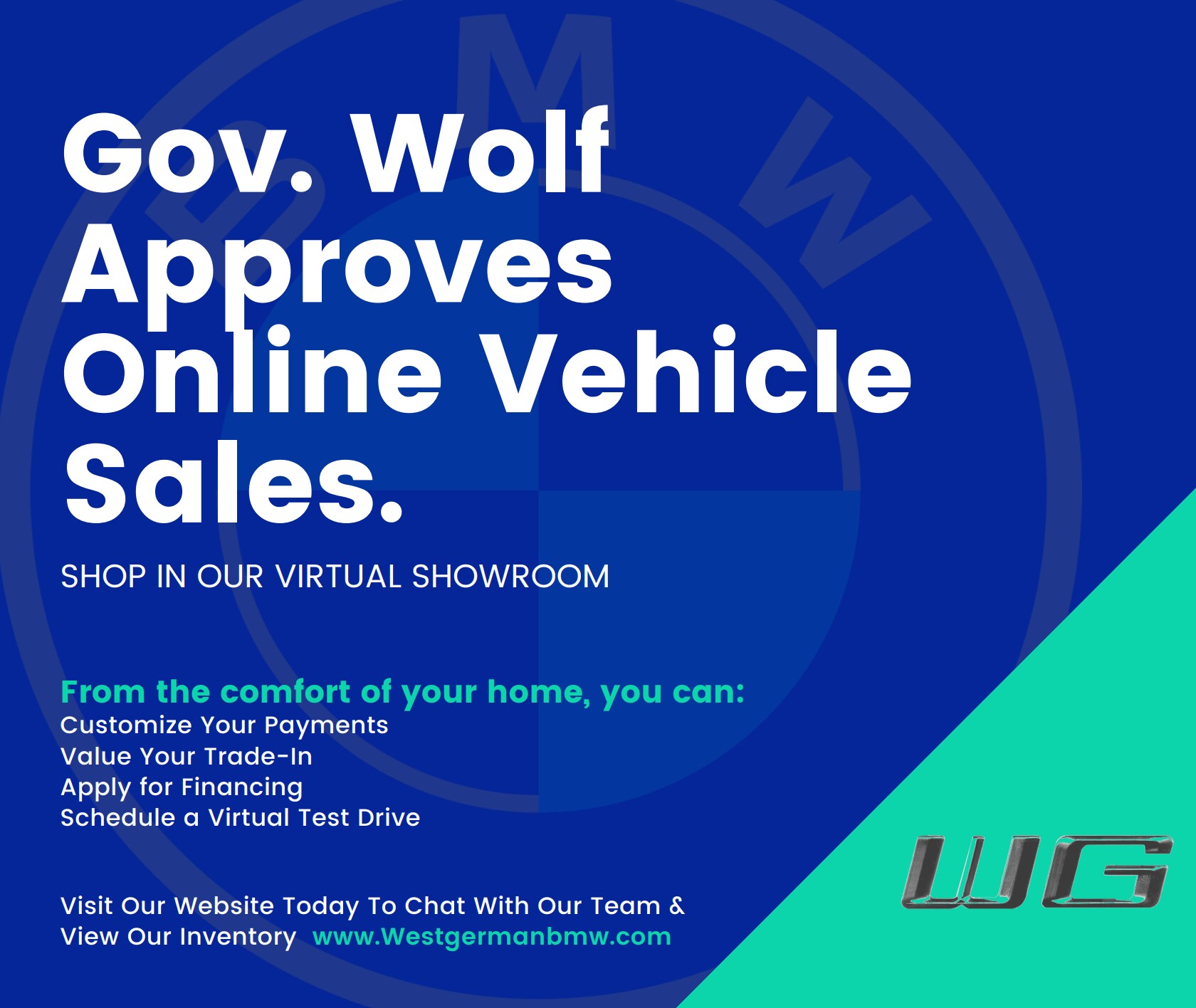 April 1, 2020
Our physical location is still c
urrently closed.
Our decision to keep the dealership closed at this time demonstrates the leadership and commitment by our entire team at West German BMW to ensure that all our employees, customers and the community follow the protocol that is currently in place. We thank you for your understanding and please join West German BMW in ensuring that we keep all the American people safe.
West German BMW will remain operational for 1st Responders & Essential Workers by calling our own WG Roadside Assistance Team at 215 778-6213. For BMW Roadside Assistance call 888-332-426
Although we are remaining closed at this time we are Virtually Open…..
- Chat
- Build A BMW
- Search our Inventory
- Appraise your Vehicle
- Work Payment Plans
All currently available with our WG Team on this site!
March 17, 2020
As you are likely aware, the state and local health authorities have recommended non-essential retail businesses to close. While we have had no known cases, we intend to comply with this recommendation in doing our part in the effort to mitigate the spread of the COVID-19 virus in our local community, while protecting our staff and clients. If you are in an emergency situation please contact BMW Roadside Assistance at (215)332-4269. 

To those who are First Responders, If your car need immediate attention please call our mobile assist number (215)778-6213 and we will assist you.


We will still be working behind the scenes! Our WG team will be actively working at home to help you in any way that we can. The following are ways WG will still be up and running:


1. Website Chat- Connect directly to us on our website through our chat feature located on the bottom right hand corner. 
2. Online Payment Calculator- Calculate your payments, value your trade in and apply for financing right on our website.
3. Email- "Meet Our Staff" page on our website has all the dealerships employees emails listed.
4. Social Media- Check for updates and tips about this latest shutdown as well as any specials and information about WG.



5. Youtube Channel- Watch our WG Genius videos to answer your questions about certain products and car features.



We wish all you and your loved ones good health and will provide additional updates as decisions are made.


Thank you for your understanding,
West German BMW Management